Currently signed up for another big picture scrapbooking class. I have to say I love taking these classes as they make me scrapbook and push me to try new ideas. The one I'm taking at the moment is called Point of View and its about looking at those events we have every year to scrapbook but journaling about them from a different angle than you would normally. This weeks was birthdays. Usually we write about the birthday party and the guests and we do it every year without fail well in this class its about looking beyond the obvious. Week 1 was an assignment for a birthday party picture - well with 2 kids I have 2 birthdays to do each year and the last 2 birthdays hadn't been done so I had the material to do it. (The other benefit of the class is now I've done those pages - yeh me....).
Firstly Philips 10th birthday - when I look at the pictures I saw these boys who were just a few years off becoming objects of desire to girls. So I decided to focus on this.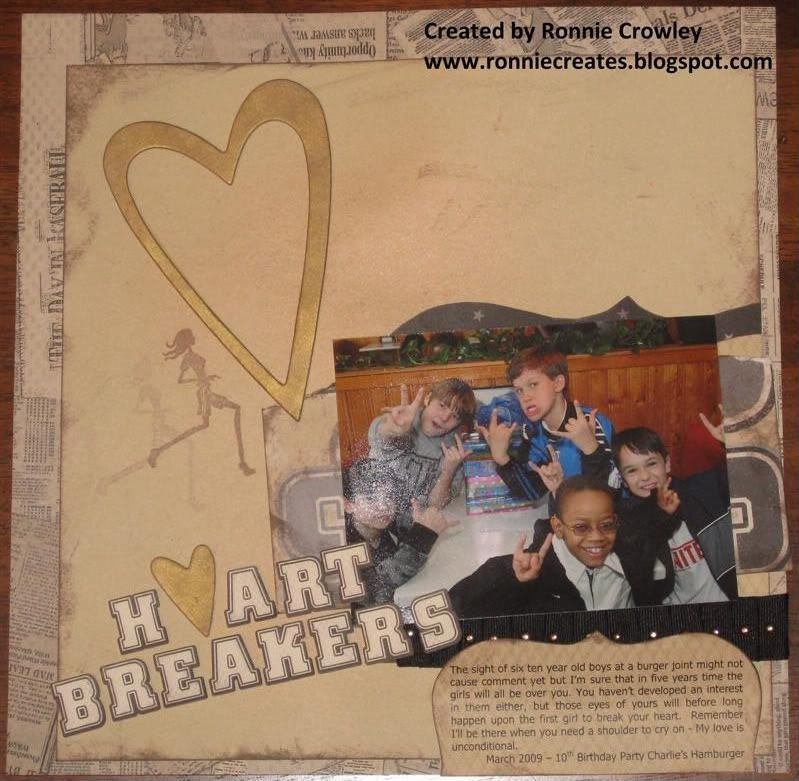 Photobucket" border="0">
All supplies used are CTMH other than the ribbon. The title is letter stickers but they have been mounted on foam tape to give dimension. The ribbon was pleated and brads used to hold the pleats to give texture to the layout as well. I cut the bracket shapes by finding a shape online printing it at the size I needed and using as a template.
For Eleanor's birthday I focused on the fact she's growing up and become more aware of the cost of everything. Her hobbies are way more expensive than Philp. This last year she wanted to dance in a competition which with out the extra lessons needed was going to cost several $100s. In total for the less than 3 minutes she was on stage it cost in excess of $400 - could even be $500 but I don't want to think about that. So she exchanged her birthday party to cover part of that. In the end she had a dance rehearsal on her actual birthday so we couldn't even have a birthday dinner at home so we brought pizza and cake to the studio for everyone after rehearsal!
All the supplies are from Jo Annes - the paper is from a variety of companies. My favorite part of this layout is the flowers and trim at the bottom. I was looking for a way to add texture and dimension to the layout and couldn't find anything in the scrapbooking supply area so headed over to the trims in the sewing section. I found the flowers which were a perfect match in color. They are made of a vinyl type material. Then I came across the netting edging stuff and they worked together and so ballet that I had to have them. (Don't tell Anthony but combined they cost me $6 for enough to do the layout) When I was working on the layout I realized I could put brads through the holes in the flowers to add something else and this is what we got. I love it. Eleanor was worried when I bought these things for her page but now she's seem it together she agrees that I did know what I was doing.
Well I'm off now to read assignment 2 for next week looks like its holiday pictures - I can see Christmas in July may be. I will have to see what I can find that I need to scrapbook.
Have a great day and stay cool if your in Texas.