Still working on my big picture scrapbooking class here. This week we had to scrapbook a picture of ourselves looking at other peoples view of us. I have had the picture I had chosen for 12 years now and haven't done anything with it. I've known I wanted to scrapbook it but not how. Well this class gave me the answer. To scrapbook it looking at what other people saw and how they didn't know everything. When this picture was taken I was a young executive manager working for a telecommunications company as the commercial manager for China. They would have liked me to move and work in the China office but I couldn't do that but at one point I spent 6 weeks there. The plan was I would continue to work my way up the promotions until I became director. I was working on my MBA and it was all mapped out. But they didn't know everything about me and what I wanted. I didn't know how much this secret would change me as I had every intention of going back to work.
A great tip from the class was not to adhere the layer papers right to the edge so you could slide things under it if you wanted later - which I did. But also once applied I was able to get the paper edge damp and then roll them to add more to the distressed look. I also sanded the edges of the picture.
Lots of sewing as I finally got round to getting my sewing machine set-up in my room. Now I have more space as I've moved out all the CTMH paperwork that took up so much space my plan is it will stay out all the time. I had fun sewing on this page and I think it added a little. The very back paper was very bright for the page so I toned it down using ink.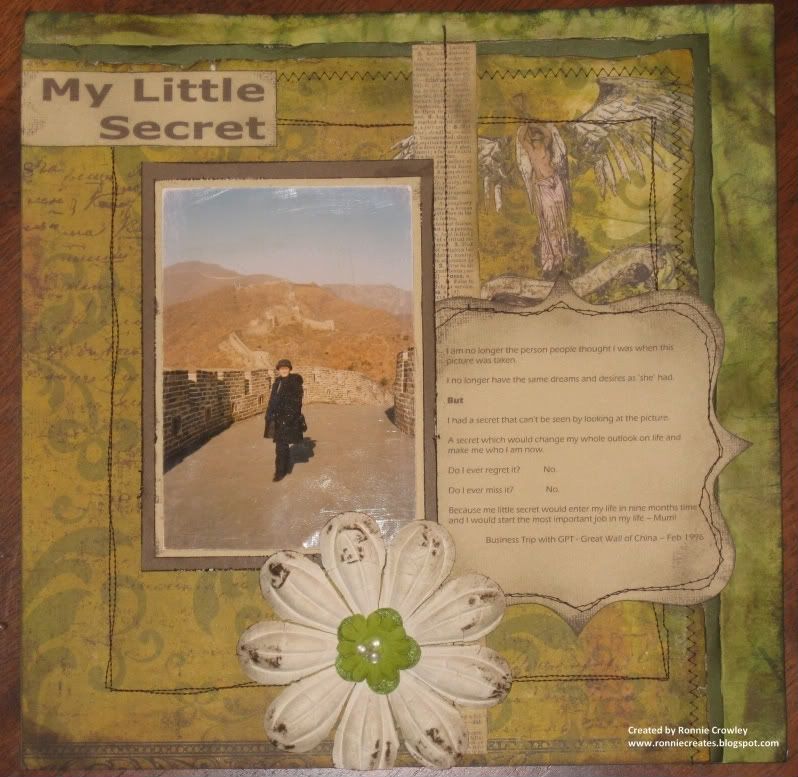 When the page was finally finished. I took a picture and then I realised I had a mistake - a typo. We've all been there. Come times for a creative addition. I think it works well - adds an highlight to the work My - as it was my secret. I'd prefer it without but I wanted to share that we all sometimes do this. All a did was print that work again cut it out. Glue and go round with the brown pen. Now it would have worked better if the 'l' of little wasn't so close but its better than it was!